Outside of my family and my dog there are two main loves in my life, local food and the outdoors. When I have the opportunity to combine the two I can't stop smiling. I'm a big believer in eating outside. Food just tastes better at the top of a mountain, ocean-side, from a canoe or around a camp-fire. Many of my favourite foodie memories involve outdoor adventures. Local smoked salmon after a hard day of paddling Nit Nat Triangle, descending from summiting Mt. Chirripo and running towards delicious hand crafted chocolate granola bars at the base of the mountain. Setting crab trap, catching crab, rowing to island, cooking immediately in a pot over campfire, eating it. Clearly, not all type of food is appropriate on the go. Some food deserves your full attention at a table, and rightfully so. My husband and I just came back from exploring BC and Alberta via road trip. We encountered stunning scenery, hidden foodie gems and excellent local libations on the way. We are so lucky to live here. Where did we go? What did we eat? Well first we hit the road...
Hit the Road
Every road trip needs a theme song. "Hit the Road" by our very own Dug Nugget was the obvious choice. Dug Nugget is a local four piece acoustic band from Vancouver Island with some serious foot stomping tunes. I love supporting local music, and when the band members are old friends of yours and know how to put on an awesome live show, you buy the cd and play it on repeat for two weeks straight. Never got sick of it (truth).
Okanagan BC
Cherry Season
The best thing about road tripping through the Okanagan in the end of June? Cherry season is upon us. You don't have to look far to find a fruit stand sitting on the side of the road selling the most delicious fruit you ever tasted. We most certainly indulged.
BC Wine Country
Coming from humble roots, BC wine has seen a boom in recent years, in particular with red wine varietals. If you visited the Okanagan ten years ago and did a wine tour, you may want to take another visit. There has been significant growth. Ten years ago there were under 100 wineries in BC. Now there are well over 200. Wine tourism has also seen a major boost. BC is now being named as a top wine destination by notable sources including the Okanagan being listed as a top ten travel destination by the Wine Enthusiast magazine. BC has also landed on a global scale, regularly placing in international competitions. It's not hard to see why. The Okanagan boasts stunning views, diverse landscape and soil quality that contributes to its broad scope of wines stretching over 8000 acres of vineyards. Even with the increased trajectory in tourism, marketing and production it is clear that the heart of a "support local" philosophy has not been lost. When touring around you get a sense of community and support of eachother from each of the wineries which has proven successful as well as sustainable. Cooperation and collaboration among competing wineries has contributed to development of successful sub regions such as the Naramata Bench and in turn the Naramata Bench Wineries association. I have always been a lover of BC wine, strongly influenced by my Father who has always been an advocate of our local vineyards. So needless to say I was fairly excited that our road trip conveniently drove through the region. The best part for me about visiting BC wine country is the range of boutique to more established wineries. Family run to larger productions you are certain to get an amazing experience. We had the opportunity to visit a variety of BC wineries, and loved the fun, relaxed and quality wine we tasted from all the wineries, big and small.
Osoyoos
In Osoyoos We visited Adega on 45th Estate Winery, Moon Curser Vineyards and NK'Mip Cellars. NK'Mip is Canada's first Aboriginal owned and operated winery. We enjoyed a lovely lunch on NK'Mip's patio farm to table restaurant on National Aboriginal Day. On the table: Tofino Bay fresh oysters, warmed olives, Cache Creek beef burger with beetroot chips and a parmesan truffle dip. Homemade bannock with a wine jelly really elevated the meal. Toasted with Mer'r'iym Meritage. Nothing beats that that view.
Oliver
Black Sage Bench
Near Oliver, BC in the south end of the Okanagan Valley region we visited several outstanding wineries on the Black Sage Bench. The Black Sage Bench is approximately 20 minutes north of Osoyoos and is known for its sandy soil ("the beach") that can reach 300 feet deep. Sunlight heats the Black Sage Bench mid morning until evening producing optimal conditions for bold red wines and full bodied whites. The deep areas of sand produce Chardonnay, Shiraz, and Bordeaux. We had the pleasure of visiting the following wineries on the Black Sage Bench: Burrowing Owl Estate Winery, Church and State Wines, Covert Farms Family Estate Winery, Desert Hills Estate Winery, Platinum Bench Estate Winery, River Stone Estate Winery & Stoneboat Vineyards.
Burrowing Owl is not only a leading winery in BC, it is known for its conservation work and collaboration with the Burrowing Owl Conservation Society of B.C. Full proceeds of the 3 dollar tasting fee goes towards their Burrowing Owl captive release program and to the South Okanagan Rehabilitation Centre for Owls. Church and State wines have unbuttoned their collars, got rid of their ties and put on their party shoes with their recent release of Lost Inhibitions, some seriously fun "mouthy wines". These wines are so fun i'm tempted to pick up those ties and make a bandanna with it like we used to do in elementary school. (You guessed it, private school.) The wine is fantastic, and you can choose from a variety of labels to match the occasion. My pick suited my mood perfectly.
Covert Farms Family Estate Winery is a certified organic estate vineyard as well as organic farm. They proudly craft their wine with minimal intervention using natural fermentation. This location is stunning, and we really enjoyed the overall experience of this winery. Desert Hills, a boutique award winning winery, puts out some serious full bodied reds. Their excellence is no secret, having twice been given the Lieutenant Governor's award for excellence in winemaking and the winner of Canada's best red. I have a weak spot for full bodied reds, so you better believe a bottle is sitting on my wine rack (we will see how long it lasts).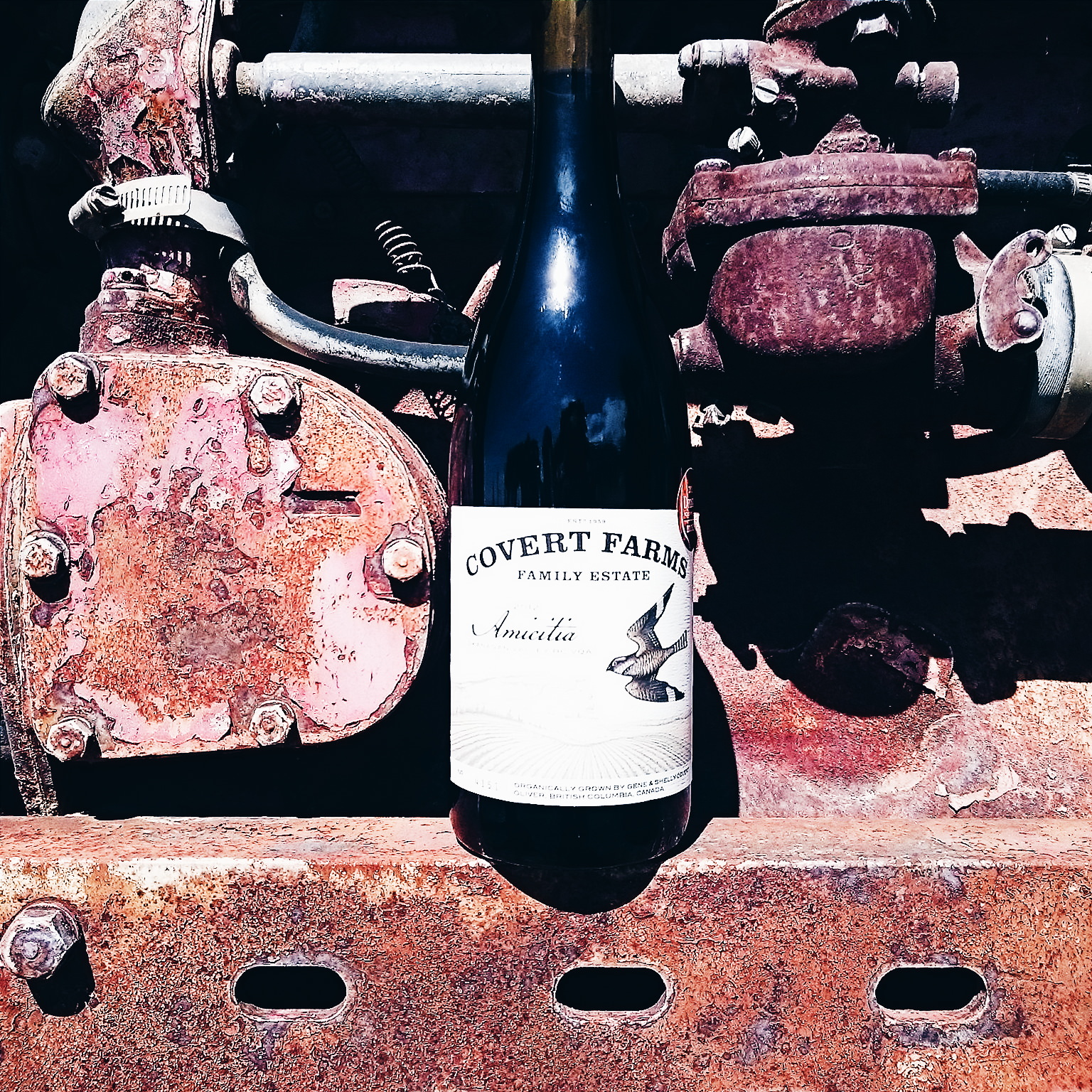 Platinum bench estate winery was a real treat to visit. Not only do they offer award winning wines, they have an onsite artisan bread bakery. Tastings are paired with their house made bread, and it is darn good. They also have local cheeses and preserves for sale. Needless to say we purchased a loaf of the Sopressata & Swiss Cheese Epi with Black Pepper Spice Salami and it... ahem didn't make it to the next winery. We glamorously inhaled it on the drive. River Stone Estate Winery had me before entering the door with their sign: Welcome to River Stone "I drink coffee because I need it and wine because I deserve it." Nailed it. Humour aside, River Stone Estate Winery definitely knows what they're doing. This year their 2012 Stone's Throw Red won double gold in the 2015 all Canadian Wine awards. A blend of Merlot, Malbec and Cabernet Sauvignon all varietals are grown "a stone's throw" away from each other (hence the name). At a price point of $23.90 you know you are getting quality without breaking the bank. Stoneboat Vineyards first vintage was in 2005 and since then it has humbly picked up awards. Stoneboat also collaborates with institutions on research projects that will lead to increased industry knowledge and quality, such as the University of British Columbia.
Golden Mile
The golden mile can be found on the western slopes of the valley south of Oliver, B.C. You can expect varietals of Gewurtztraminer, Chardonnay, Merlot and Cabernet Sauvignon in this area due to the sandy clay soil, and drained gravel. We had the pleasure to visit Fairview Cellars and we felt right at home in their log cabin tasting room.
Okanagan Falls
Next stop was Okanagan Falls where we stopped in at Liquidity Wines, Noble Ridge Vineyard & Winery, & Painted Rock Estate Winery. We were starving at this point, so had a bite at Liquidity Bistro. I am sure glad we did, as their feature Burger was one of the best burgers I have had in a long time. Plus the view isn't half bad! At Noble Ridge Vineyard we purchased "The One" Sparkling 2010. Winner of the 2015 Lieutenant Governor's award for excellence we couldn't pass it up. Spoiler alert- we greatly enjoyed this bottle on our wedding anniversary camping in Waterton National Park (who said camping can't be classy). Painted Rock Estate Winery boasts stunning views of Skaha lake and vineyards; not to mention fantastic award winning wine. Spotless and modern, it's no wonder it's a popular spot for private and elegant wedding events alike. It was even featured in Wedding Bells as one of Canada's loveliest wedding venues of 2014.
Penticton
Naramata Bench
The Naramata Bench produces fantastic wines. It overlooks Okanagan Lake, is west facing and is located near Penticton in the South of the Okanagan. Clay soils left by previous glaciers combined with innovative winemakers create some pretty spectacular results. We had the pleasure of visiting Hillside Estate Winery, Laughing Stock Vineyards, Poplar Grove Winery, & Upper Bench Estate Winery on the Naramata Bench. Note: there are several others that I absolutely love in Naramata that we unfortunately didn't get a chance to go to (if we did my husband may have had to carry me home, one can only "taste" so many wines after all). Many we had visited before, and we will be certain to visit again.
Hillside Estates describes their wines as "unique, small lot, and terroir driven". I couldn't agree more, we really enjoy their wines. From Laughing Stock we went with the small cap release amphora vr 2014. This was something different than I have had before. Ancient fermenting technique in terracotta clay Amphorae was used, varietals- Viognier & Rousanne. 162 cases only were made and purchase was solely available directly from the winery. We were lucky in that we were able to get our hands on one of the last bottles (the website actually says sold out now). Here's a link to their tasting notes. But better yet... come over and try some with us and see what you think. I'm a big fan of tossing the tasting notes aside and discovering by enjoying with friends and family. Poplar Grove. One of my favourite wineries and it did not disappoint. Not only does it have fantastic wines, the space is absolutely gorgeous. I could definitely lose an hour (ok a few hours) on their patio. We also visited Upper Bench Estate Winery and were delighted to find out that they also produce artisan cheese! Wine and cheese tasting? Yes please! More about this below...
Local Artisan Cheese
What goes with wine? It makes sense that a couple artisan cheese places would open up in BC Wine country. For some reason I didn't expect the cheese to be this good though. Good, but not THIS good. We were blown away with the deliciousness of both Upper Bench Estate Winery Cheese & Poplar Grove Cheese. At Upper Bench Estate, wine tastings are paired with cheese (swoon). At Poplar Grove you can watch the cheese being made right in house. And... if you're really lucky you may come across these persistent cherry salesmen who's smiling faces we absolutely could not say no to. (Even at $1.00 a cup o cherries.)
Distillery
You know what's a great idea? Spending all day tasting wine and deciding to finish up the day by hitting up one of the local distillery's for a tasting. Enter Legend Distilling "premium vodka and gin inspired by the legends of the Okanagan, made in small batches with the finest local ingredients" (and I'm told whisky is in the works- here's hoping)! We had so much fun taking over their tasting bar right before their doors shut for the day. Doctor's orders Gin is, to state the obvious, "exactly what the doctor ordered." Tongue in cheek branding; a nod to the fact that their distillery is in the space once occupied by a doctor's office as well as B.C. prohibition era "prescriptions" for aching ailments. Ingredients are locally sourced and represent the Okanagan. BC rhubarb and Okanagan honey is slowly infused on site to create the Slowpoke infused vodka pictured. Legend Distillery encourages trying it on ice or using it to elevate your cocktails. Yum! If you're looking for Legend Distilling in Victoria B.C., I'm told that the Doctor's orders gin can be picked up at Cook St. liquor store, Cascadia liquor store at both their Quadra and Uptown locations, The Strath liquor store and at local restaurants OLO and the Northern Quarter.
Brewery
Worthy of a mention is Firehall Brewery. The brewery is situated in the re-purposed "Old Firehall" in the heart of Oliver B.C. We didn't have a chance to visit the brewery on this trip, but admittedly the first drink we ordered after arriving in BC wine country was the delicious Holy Smoke Stout. After a long day of driving and knowing we were hitting up the wineries the next day, I was really craving a BC craft brew. This local beer really hit the spot.
Revelstoke BC
The best part about road trips? Being able to stop in and visit old friends that over the years have moved from home (sniff) along the way. Revelstoke BC is one such place whose beautiful mountains, charming town and riding/boarding culture has stolen some of our favourite people away from us. A mountain community that offers a laid back yet adventurous lifestyle; it's easy to see why. It's a pretty special place. We were spoiled by our friends delicious home cooking, some local foodie gems, and the gorgeous backyard that Revelstoke (the real stoke) has to offer.
Some highlights (as pictured above): Exploring the top of Mount Revelstoke National Park (in flip flops no less), The Modern Bakeshop and Cafe- a favourite local spot, expect lineups out the door! Local coffee roastery: Stoke Roasted Coffee, family owned and operated who value great coffee, positive impact and harm reduction. Lazy mornings walking along the mesmerizing Columbia River, wading through the long soft grass, and tossing stones into the river just to watch the splash. Catching up over home cooked breakfasts: avocado, bacon and kohrabi on the table, corn tortillas, tomatoes and eggs to follow. Drinking tasty local BC craft brews from Mt. Begbie Brewing Co. We also enjoyed a meal from Paramijit's Kitchen which serves Indian AND German cuisine (awesome) and is located right in downtown Revelstoke. Sigh, it was hard to leave... but it was time to hit the road! Thank you to our lovely friends for hosting (you know who you are) :)
Rogers Pass, BC
One of those moments where you have to pull over. The mountains are calling.
Yoho National Park, BC
Takakka Falls, BC
We were lucky enough to call Takakka Falls campsite home for a couple days while exploring Yoho National park. Like clockwork, every evening the rainbow colors danced off the falls just as you finished up supper. I'll take this view over Netflix any day.
Local BC craft beer was in the mix with Fernie Brewing and Mt. Begbie in the cooler, ice cold. Corn on the cob and a couple steaks on the camping grill added to an already amazing evening. There is nothing better than this after a long day of hiking. Feeling pretty blessed to be from this beautiful province.
Takakka Falls & Moon, Mother Deer and Two Fawn.
There's something very special about this place.
Emerald Lake, BC
True happiness? Packing a lunch in the backpack and exploring around the diverse and stunning Emerald Lake in Yoho National Park. The lake has a variety of microclimates which contributes to the diversity of the vegetation and florals. I'm overwhelmed with our backyard's beauty.
Bear Aware
Yoho National Park is an amazing place to go hiking. While we were there we dreamily explored many other hikes and took in the fantastic scenery of various waterfalls, lakes, mountains, trees and wildlife. Being a Vancouver Island girl who loves the outdoors, I'm used to encounters with Black Bears... but not so much Grizzly Bears. I knew this was a possibility and was uncertain if I really wanted to see one up close and personal. Probably my worst case scenario is running into one in the dark (and startling it). So naturally it's four in the morning and "nature is calling" (excuse the pun) and the washroom is ALL the way over there. There being outside of my tent and a five minute walk away. Not far but can seem like a marathon when you're all cozy in your tent. I have this overwhelming feeling I'm going to run into a Grizzly. Crazy right? Crazy or not I'm convinced my husband should come with. After some back and forth he agrees, not particularly happy about getting up in the middle of the night, but being an awesome husband he does it anyways. Wearing head-lamps we trudge on weaving up the marathon path to the bathroom in the pitch black night. I see the women's washroom and turn left as he turns right. I turn my head and bam! My headlamp flashes directly on to a brown Grizzly bear bottom under five feet away. DON'T PANIC. My heart jumped in my throat. I slowly sidestepped away as I watched the wide brown rear meander in the opposite direction. I grabbed my husband and exclaimed in a loud whisper "there's a grizzly over there!". My husband completely doesn't believe me at this point but takes the bait. "There's nothing ther... err.. oh wait ya there it is." The only scenario where I hate being right. This bear wasn't very tall, so I gather it was a juvenile or cub, which means the Mama was most likely keeping her eyes on us. Back to the tent we go (slowly and calmly).
Bear stories aside, it's extremely important when enjoying and eating in BC's backyard to educate yourself on how to be Bear aware. Keeping a clean campsite, using Bear caches, bear safe fishing practices, and packing in and packing out are some of the basics. AND please, make sure to learn what to do if you encounter a Black Bear, Grizzly Bear, a Bear and cubs, Cougar or Wolves in the wild. Teach your kids. The majority of the time Bears and other wildlife have absolutely no interest in you, they want to avoid you. This does not however mean they are tame and should be approached. I have encountered numerous Bears in my years in the outdoors, and the one time I was actually charged by a black bear it was because we had startled it while hiking in to a rock climbing spot deep into the bush. It charged and veered to the left, and we didn't see it again. Bears and the other wildlife we have in our BC backyard are enchanting beautiful creatures. They need to respected and given space when we are in their home rather than feared or worst, fed like pets. For a comprehensive detailing of Bear safety please see this link to BC parks Bear Safety Page.
Gratitude
BC is the place I call home. This trip has served not only as memorable moments but also as a reminder of how lucky I am to live here. I feel so much gratitude for this. While watching the waves crash on the shore, strolling through the forest, and exploring mountains I become increasingly cognizant how important it is that we protect and keep our province beautiful. I believe the coming generations share this value. I couldn't help but overhear a father point out to the pristine Emerald Lake in Yoho National park and use its beauty to teach his son the importance of not littering. "We need to make sure the lake doesn't lose its shimmer" he said. How right he is. How right he is. Thank you to all of the wonderful local BC establishments I experienced (and the ones I couldn't visit) on this trip. Your contribution to our communities and commitment to making beautiful local food and drink is amazing.
The Adventure Continues
Our road trip carries on as we leave Yoho National Park and head into Alberta for more outdoor and foodie escapades. The adventure continues in an upcoming post on the blog. Until then...
Through food we share life's moments.
What's your food story? Feel free to leave me a comment in the section below, email me at gratitudeforlocalfood@gmail.com or follow me by Email, Twitter and Instagram.
Gratitude For Local Food Love. Food. Stories.